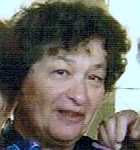 SCRABBLEVOLUTION
I was nine or 10 years old and my sister Susie five years older when Scrabble came on the market in 1947. We were living then in St.John, New Brunswick in the maritime provinces of eastern Canada.  Recently emigrated from Czechoslovakia, we'd latched on to our new language, English, with a passion, and Scrabble, it seemed, had been created just for us.  The fact that we couldn't afford to buy a set was no problem. We made one — board, letters and all — and used it for months.
Another emigration, this time to Israel, marked my next Scrabble leap forward.  I signed up for the first tournament in Tiberias, and  heard Sara declare: "We must form a Scrabble Club in Jerusalem."  Scrabble at the tournament wasn't like it later became at the Club.  Few of us there had ever heard of a Scrabble dictionary ("What dictionary??"), and when one of my games clogged to a standstill, my opponent and I agreed that I'd open the board with a phony that she wouldn't challenge…
The Club, of course, was duly formed and Tuesday nights became holy in my life.  (Even my kids know not to give birth on Tuesday nights.) For me, as for so many others, the Club has given us wonderful friends, and taught us about leadership and who we are.  It has not only enriched our lives but become a large part of those lives.
CERTAIN WORDS
With the tens of thousands of words played by and to me in my 60 years of Scrabble, a couple will always stand out.
One is DUENNA.  Coming home from a Haifa tournament, I was telling the others in the car how my opponent had challenged the play. "I was really surprised, as I know the word," I said, meaning that DUENNA is a 'normal' rather than a 'Scrabble' word.
"Oh yes!" said fellow-passenger Barry. "I know it, too.  It's in the dictionary at the bottom of page…."  Barry, I should add, was working his way through the dictionary.
The second word that stands out (no pun intended!) is PRIAPISM. The late Harold Blum played it against me, and it went on to become Word of the Week and runner-up Word of the Quinquennium.  Here it's important to point out that while it was Harold who played the word, it was me who inspired it!