Welcome to the Jerusalem Scrabble Club
COME PLAY WITH US … VISITORS ALWAYS WELCOME!
Director: David Litke, 050-535-1800, david_sojsc@yahoo.com 
  THIS WEEK AT THE CLUB…
*** Standings,  Season 74:  Wk 3 of 25 – May 21, 2019  ***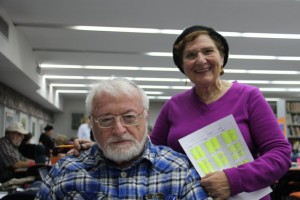 Aryeh is the A division playoff champ, squeaking past Dahlia, Wendy and Steve.  He will begin a best-of-5 series against DavidS for the season 73 club championship…..Welcome to newcomers Lorraine Schwartz and Alex Sachare…..Following the boundless attention given the new words that came into the dictionary earlier this year, here's a look at some of the longtime entries.  Among the 10 percent that don't derive from Latin, French, Old German and Greek are many rooted in Hebrew and Yiddish —from PHYLACTERIES to PLOTZED, MATZOTH to HAFTOROTH (see the complete list at http://jsc.org.il/wp-content/uploads/Yiddish-Hebrew.pdf), and a handful that come from Arabic.  BINT (a woman), FELUCCA (sailing vessel), TANDOOR (a clay oven), ATTAR (fragrant oil) and LOOFA — also, LUFFA — (a vine) are probably familiar to many, but there are also rarer gems.   A SABKHA is a periodically flooded coastal plane, HABOOB is a violent sandstorm, ALIZARIN a red dye and TAZZA an ornamental bowl.   BARBICAN (an outer fortification), it turns out, also comes from Arabic, as does BORAGE (a medicinal herb), FENNEC (an African fox), AFRIT (an evil spirit) and JIRD (a long-tailed rodent).  § None of which would have helped Wendy in her game against Vivienne this week.  She took a hard look at Vivienne's opening HAIRIES, failed to identify it as a phony, let it go, and went on to lose the game by a single frustrating point… § Scrabble School resumes at 7.00 pm next Tuesday, led by Peta.
WWW:  Vivienne, Shirley, Steve
WOW:  TERRAPIN(Pamela),  MISGAGE(Steve),  UNISEXES(Taffy),  PYRAMIDS(Richard),  DEBRIEFS(Joel) 
PHOW: STEALED(Madeline),  RACINATE(Asher)     EPIGENES (DavidS)
Stats (high win, high loss, high triple):
A:    518(DavidS), 438(Wendy), 1365(Steve)
B1:  440(Asher), 382(Elana), 1153(Asher)
B2:  443(Vivienne), 357(JudyS), 1277(Vivienne)
100-pt plays: 
DavidS:                 EPIGENES, 140 pts, 3×3  (phony)
Steve:                   DEFACERS, 101 pts
Attendance: 34
---
---
---
Check out the Puzzle of the Week (POW) Archive