Welcome to the Jerusalem Scrabble Club
COME PLAY WITH US … VISITORS ALWAYS WELCOME!
Director: David Litke, 050-535-1800, david_sojsc@yahoo.com 
  THIS WEEK AT THE CLUB…
***  Season 73:  Wk 16 of 25 – February 19, 2019  ***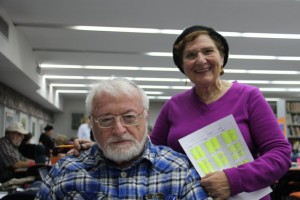 A new Puzzle of the Week (POW) — in Zev's memory — appears at the bottom of this page
It was only the second week that the Club met in its new venue, the library at the Himmelfarb high school, but already it felt very much like home, with players heading for their preferred places, and congregating by the coffee station.   § It certainly set Ami's play on fire, which he underlined by playing FURNACE, CINDER and SOOTING all in the same game to win it by a margin of 106 points.   § Vivienne Muhling of the Toronto Club visited for the first time in many years, and Aviva, who has been in the US for several months, was happily welcomed back.  We also said hello to Dahlia's niece Ayala, visiting from the US…. § There were refreshments to celebrate the engagement of Wendy's eldest daughter, Odelia.    § And the Club paid formal tribute to founding member, Zev Kesselman, whose shloshim is marked this week, with an album of anecdotes, memories and photographs.
WWW: DavidS, Dahlia, DavidL, Nechama, May, Brenda
WOW:  FRENETIC(Asher),  LEUCINS(DavidS),  ACQUAINT(Hilda)
PHOW: ENCOAXES(DavidL),  ALEURINS(Dahlia),  OUEVRE(Asher)
Stats (high win, high loss, high triple):
A:    511(Dahlia), 396(Jonathan), 1318(Dahlia)
B1:  472, 374, 1180 (Elaine x 3)
B2:  521, 354, 1299 (Elana x 3)
100-pt plays:  none
Attendance: 38
---
---
(*****) POW #21 – 2019 January 23 (credit: Josh G)
In loving memory of Zev Kesselman, Z"L
There are only three words that contain all of the letters Z E V K (not in order) — and one of the words is a plural of another one. What are they?
---
This and all previous POWs may be found in the Puzzle of the Week (POW) Archive