Welcome to the Jerusalem Scrabble Club
COME PLAY WITH US … VISITORS ALWAYS WELCOME!
Director: David Litke, 050-535-1800, david_sojsc@yahoo.com 
  THIS WEEK AT THE CLUB…
***  Season 73:  Wk 20 of 25 – March 19, 2019  ***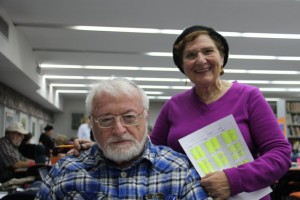 A new Puzzle of the Week (POW) appears at the bottom of this page
It seemed on the evening as if it were one for the record books.   Joel E of Los Angeles, making one of his (ir)regular stopovers at the Club this week, scored 612 points to opponent David L's 403 — giving the game a combined total of 1,015.   Impressive though it was, however, it broke no records, coming in as only the fourth highest combined total in the close to 130,000 games played at the Club.  (Even David's losing score fell 13 points short of the evening's highest loss.)    The Club's highest combined score of all time goes to the 1994 face-off between JJ and Joan T — a whopping 1,054 points (672-382).  In second place is that between David S and David L in 2012  — 1,028 points (528-500);  and in third is Sam ז"ל  vs. Jonathan F in 1986 — 1,020 points (540-480).  David L, the only player to make more than one appearance in the six games in the Club's rarefied 1,000+ games list, is not always on their losing side: in 2000, he beat Etta ז"ל  574-435, a combined total of 1,009.   (The other two 1,000+ games: are David C vs Rena in 1996 — 522-481, 1,003 points;  and Dahlia vs. Esther ז"ל in 2002 — 516-485, 1,001 points.)  §  The Club welcomed two first-timers this week:  Yaki Barak of Kfar Saba and Pittsburgh (who won all three of his games against B1 opponents), and Pamela's friend, Shelley Hershberg.
The Clubs wishes all its members and Scrabble players everywhere
A

H

A

P

P

Y

P

U

R

I

M

!

WWW:  Yaki, Brenda, JudyS, Aryeh

WOW:  WIGWAMS(Rita),  SANGUINE(JudyS),  AGNOSTIC(Aryeh),  NOXIOUS(Pamela),  LINGCODS(JoelE),  SEIZURE(Asher)

PHOW: OUTTAXED(Ami),  DAUBINGS(Yaakov)

Stats (high win, high loss, high triple):
A:    551(Bernard), 416(DavidS), 1281(DavidS)

B1:  547, 383, 1354 (Elaine x 3)

B2:  438(Lesley), 346(RuthO), 1168(Gordon)

High Game on the night: 612, JoelE

High Triple on the night: 1450, JoelE

High Combined: 1,015 pts (JoelE 612, DavidL 403)

100-pt plays: 

Elaine:                   WETTERS, 102, tws

Attendance: 40
---
---
(***) POW #22 – 2019 February 26 (credit: Josh G)
The Queen's speech
Of all the words in the OWL3 lexicon, approximately what percentage of words are of each part of speech:
Adjective
Adverb
Article
Conjunction
Interjection
Noun
Preposition
Pronoun
Verb
---
This and all previous POWs may be found in the Puzzle of the Week (POW) Archive