Welcome to the Jerusalem Scrabble Club
COME PLAY WITH US … VISITORS ALWAYS WELCOME!
Director: David Litke, 050-535-1800, david_sojsc@yahoo.com 
  Season 70:  Week 6 of 25 – 16/05/2017
THIS WEEK AT THE CLUB…
҉ The lights went out at the end of Game 1 and a cake came in, candles flaming.  There wasn't room for 80 of them, but their message blazed clear:  HAPPY BIRTHDAY, ALICE!  Voted the Club's Nicest Player, is a Club institution — a founder member and one of Sam O's four 'mothers' in its early days (along with Sara Schacter ז"ל, Roz Grossman ז"ל and Edythe Friedlander ז"ל).  The surprise cake was brought by her four children, Stephanie, Ruthie, Rachel (in absentia) and JJ.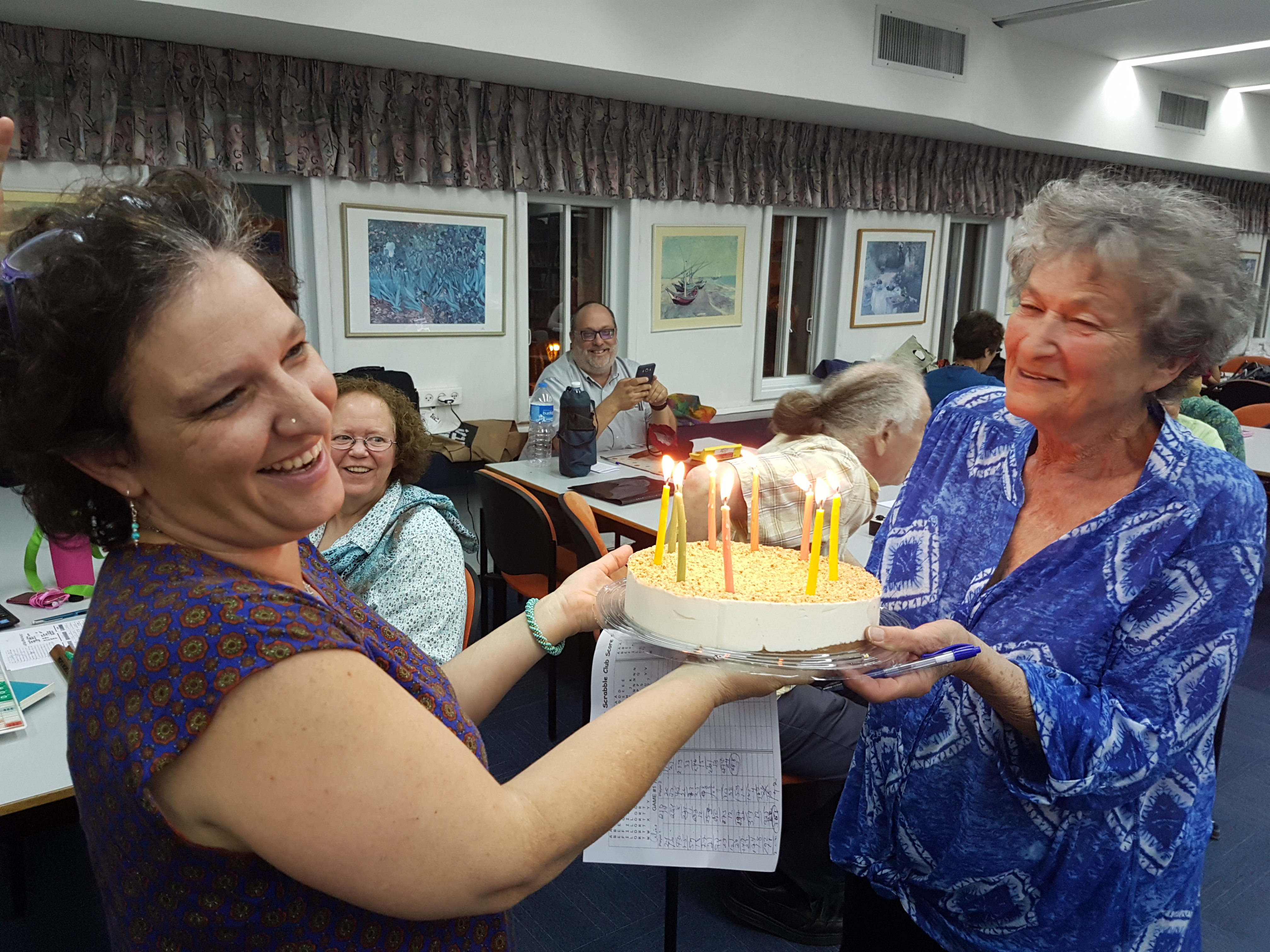 JJ stayed on to play.  A Scrabble prodigy who started at the Club aged 13 and went on to win its championship five times, he showed he'd lost none of his fire, despite many years' absence.     ҉    David S was in fearsome form this week — or, as he puts it, he had "a fun evening."  He scored 510 points in both his first and second games, though he disgraced himself with a mere 444 in Game 3.  Drawing six blanks in the three games, he played 10 bingos — MUTAGEN, AIRFOIL, ORNATELY, INTERLAP, PANNIER, SCOOPING, INJURERS, SENATOR, ARSENAL and DILUTERS.    ҉    The tile fairy smiled on Rose, too, this week.  In her game against Paul, she placed both Z and J on double word scores, Q and K on triple word scores, and the X on a triple letter score, reaping points in both directions.   Her win-margin, however, was only 12, largely because she let pass Paul's phony VOMITTED.  ҉ The mood in Ami and Rena's game was..  well… somber.   Ami played SOMBER, then Rena played SOMBER through Ami's O.  She followed it with ROADKILL from SOMBER's R, but despite her K being a blank, Ami couldn't imitate that one…  ҉ Aryeh's illegal WORDLIST went unchallenged (what Scrabble player worth their salt would doubt it?), but Zev was luckier to get away with his phony.  His American-born opponent figured ERESOON was another of those archaic English time-words (think ERELONG), and let it go.  
҉ Wherever you stand on US President Donald Trump, he gains zero points with the Jerusalem Scrabble Club for the timing of his Jerusalem visit next week.  He'll be in town on Monday and Tuesday during the same week as Jerusalem Day.  With roads in and around the city-center closed to traffic for both events, our venue will be all but inaccessible.  So, sadly,
THE CLUB WILL NOT MEET NEXT WEEK
See at bottom of this page for a special message from President Trump!
WWW:  Sara, Pamela, Roger, Asher, DavidS, Jonathan
WOW:  MOSQUITO(Susan),  ENSUITES(Pini),  ROADKILL(Rena),  UNHAIRS(Elaine)
PHOW: ERESOON(Zev),  WORDLIST(Aryeh),  CANONERS(Peta)
[note: Josh phonied with CANONERS just one month ago, 18.4. It pays to read the Highlights!]
Stats (high win, high loss, high triple):
A:    510(DavidS x 2), 460(Aryeh), 1464(DavidS)
B1:  473(Asher), 398(May), 1248(Asher)
B2:  435(JudyS), 358(RuthO), 1126(RuthO)
100-pt plays:  None
Attendance: 48